Mini Pincushion Collage
Mini Pincushion Collage Pattern by Laura Heine. This is a smaller version of Laura's pattern "Pincushion".
Full size pattern and complete color instructions included.
$30.00
Festive Windsock Pop Ups
Windsock Pop Ups sewing pattern by the Fat Quarter Gypsy

.
Make a bright, cute and super fun windsock that looks great in your backyard or hanging from your camper awning.
You'll be using 2-1/2in strips and a fat quarter.

Pattern includes instructions, one small spring, one small swivel hook, and a label.
$13.99
Bullseye Quilts From Vintage to Modern
From veteran author, teacher, and designer Becky Goldsmith comes this amazingly striking bullseye quilt with easy-to-use foundations.
Though the result looks complicated, the quilt comes together simply and easily with Becky's simple, friendly instructions.
Make the stunning bullseye all on its own, add a border of flying geese, or make nine smaller bullseye blocks for an eye-catching quilt.
The paper piecing patterns include handy seam allowances so you waste less fabric!
$19.95


Ruddy Rooster


This Ruddy Rooster quilt pattern is part of Ann Shaw Quilting Chicken Challenge quilt pattern series.
This is a traditionally pieced pattern that uses freezer paper templates. The unusual fabric selections make this pattern come to life!
The finished size is 18" x 28" and features straight seam sewing making it easy to sew.
Included is the full sized pattern and step by step directions.
$15.00


Dragonfly
Dragonflies are found throughout the world, and in some cultures symbolize power and poise.
This Artisan dragonfly pattern features this insect's beautiful iridescent wing colors.
An Ann Shaw Quilting Artisan design, this pattern features detailed piecing for experienced quilters.
$22.00


Jelly Roll Rug Squared
Uses a Jelly Roll which is a 2 1/2" strip set with between 40 and 42 strips.
The rug will finish approximately 30" x 44".
You will need two rolls of the Katahdin pre-cut 2 1/2" strips of lightweight cotton batting.
This is really the way to go instead of trying to cut your own.
The cotton is so light and pliable that your rug will be easier to manage as you stitch.

$10.00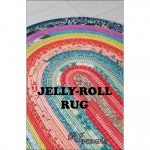 Jelly Roll Rug




Approximately 30in x 44in area rug made from one Jelly-Roll, forty-two 2-1/2 inch fabric strips, and 100 percent cotton batting.


$10.00


Fun Pack Cell Phone Case
This ADORABLE self-lined cell phone clutch is great! It sews up so fast, and has pockets that magically appear.
All straight sewing, great for beginners!
Takes only minutes to make! Printed interfacing for 2 bags!
Cut and sew on the lines! You'll love it! Approximately 5in x 8in.
Great for larger phones!
Pack includes (2) panels of Cell Phone Clutch fusible interfacing, cording, hook and loop tape and instructions.
$17.00


Tea Bird Needle Case
Tea Bird Needle Case is all about stitching, so skip the applique and get right to the fun stuff - embroidery and embellishment!
Create this adorable textural bird using Eleganza Perle Cotton in a variety of weights.

$10.00


Stitched Sweet Easter Eggs
Finished size of each egg approximately 4 inches round and 5 inches high
$9.00


Think Spring


Finished Size: 9in x 13in. Small pieced cotton wall-hanging with wool applique.


$6.00


Spring Fling
Finished size 13"x22"
$10.00


All My Eggs in One Basket
Approximately 7"x8"
$10.00


Breath of Spring
$10.00


Easter Stitchery
$6.00


Spring Break
16"x18" Quilt
$6.99


Barnyard Queen
Finished size approximately 18"x26"


Boxer
Finished size approximately 22"x18"


Yorkie
Finished size approximately 19"x17"


Summer's Smile
Finished size approximately 49:x32"